May 15, 2019
| by Bruce Levy
Since Hurricanes Irma and Maria tore through the Caribbean in 2017, energy resilience has been at the forefront of industry conversations, as communities restore damaged infrastructure and debate future systems. The storms not only ramped up the urgency to decarbonize energy systems to combat climate change, but also served as a harsh reminder to do so in a way that will withstand increasingly extreme conditions. In response to this call for resilience, some Caribbean islands have passed renewable energy resolutions and attracted developers to the region hungry for new investment in wind and solar energy. But within the fresh opportunities, these new players also have intensifying climate conditions to consider at every stage of the development process.
Raising the stakes for energy
Building resilient energy infrastructure is part of a larger narrative in the Caribbean. Islands stand at the literal frontlines of devastating hurricanes, rising sea levels, and more frequent and severe heat waves. By taking measures to diversify and distribute energy sources, islands will strengthen their grid and enjoy less disruption when the next storm strikes. Most islands today are fueled primarily by oil-based and imported fuels. The cost of these imports can take electric rates hostage and create economic instability with fluctuating oil prices. Islands that move to even 30 percent renewable energy can reduce the impact of high oil prices significantly. By bolstering energy self-reliance with robust, durable renewable energy technology, islands are adapting both structurally and economically for catastrophic climate change events—and developers can help them get there.
Hitting the resilience mark, right off the bat
Developers have a chance to build resiliency into new energy infrastructure as early in the process as site selection. Subject to intensifying and increasingly frequent tropical storms, Caribbean island nations require a facility that's capable of withstanding high wind speeds and storm surges. On islands, the flattest land tends to be located around the shoreline, but so too is the highest threat of storm symptoms. These criteria can eliminate large portions of the best land from consideration, but proper site evaluations are often overlooked in favor of speeding up the process or simply because flat land is hard to find. Developers should be cautious when proposing sites for renewable energy facilities, making sure the location of their site aligns with worsening storm scenarios.
Once a site is selected, thorough geotechnical testing can be the difference between costly post-storm system reconstruction and a broken panel here or there. It's unnervingly common for new contractors to conduct all geotechnical tests in just one location—even for a multi-acre facility—sometimes on the perimeters of the site or near the main access road, away from where the bulk of the system will be installed. Geotechnical testing in the exact soil where piles will be driven will either confirm that the ground is solid enough for development, or signal the need for longer piles and deeper anchors for racking. This is key to laying a foundation that will stay upright in the face of intensifying storms, and keep the lights on in critical conditions.
Designing for the elements, down to the nuts and bolts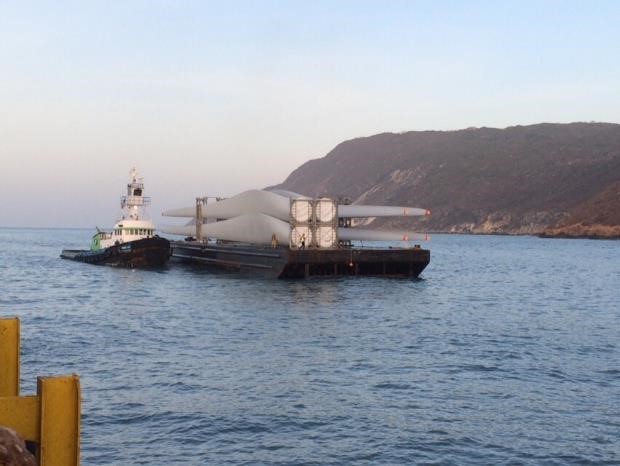 After selecting a site, developers in the Caribbean need to design and develop the system with the worst-case scenario in mind. Designing for worst-case scenarios means procuring equipment that's appropriate for intensifying weather conditions like high speed winds and flooding, regardless of minimum requirements. For example, although proposal specs often only call for turbines rated to withstand Class 3 hurricanes, resilience-savvy developers understand that wind speeds are projected to increase over the lifetime of the equipment, and procure turbines rated for Class 4 or 5 hurricanes.
The extra dollars spent on storm-rated panels, inverters, racking and turbines are lost without the same attention to the system's nuts and bolts. It's often just an insignificant component that fails under strong winds or heavy rain, and brings down the entire facility. A 4-megawatt, fixed ground-mount solar facility in Spanish Town, St. Croix was directly in the path of Hurricane Maria in 2017. The costliest repairs included damage to electrical equipment inside a seemingly safe concrete building. While the building itself withstood Category 5 hurricane force winds, the roof ventilation fan did not. Winds removed the fan, and heavy, continuous rain flooded the inverters inside, leaving the facility inoperable. To avoid costly system upgrades, developers should design and construct everypart of their project to withstand worst case scenarios, down to the storage building's ventilation fan.
Aiming for calm, after the storm
After a system is built, developers and owners should expect that hurricanes and severe storms will pass their facilities regularly. Operations and maintenance strategies that include storm mitigation techniques can help prepare for the effects they leave behind. Building a proactive and trustworthy relationship with the local utility will help institute hurricane preparedness programs in the days leading up to the storm. Preparedness programs can help arrange backup power systems to combat outages, develop post-storm repair plans to ensure timely system maintenance, and spread outreach campaigns to keep customers informed. These mitigate long-term impacts from damage to the facility, saving developers and local communities time and money.
Designing, developing, and operating renewable energy projects to withstand worsening climate conditions has a ripple effect. As islands strive to decarbonize their energy systems, and new industry players flood the region, decisionmakers will look for trustworthy and long-term development partners for their projects. These extra measures not only make stronger energy systems, but also boost reputations in communities. Above all, as the effects of climate change continue to threaten economies and lives in the Caribbean, developers have an obligation to do their part and build clean, cost-effective, resilient energy infrastructure. In the wake of a devastating storm, reliable power should be last on a community's list of concerns.
+++
Originally published on: North American Clean Energy